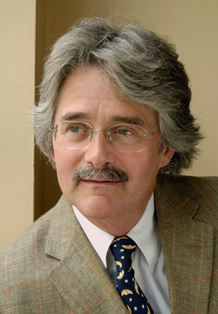 Since leaving Sotheby's in 1994, after twenty-five invaluable years experience at the very centre of the art world, Christopher has been acting as a curator for private collectors whilst continuing to appear regularly as an expert on furniture and sculpture on the established programme, the 'Antiques Roadshow'. Produced by the BBC from its centre in Bristol, the program is shown throughout the English-speaking world on cable and satellite and Christopher has been on the team since the 1980s. He has also appeared on the BBC's 'Antiques Inspectors', 'The Great Antiques Hunt' and other programs, including radio broadcasts.
In June 2011 Christopher made his first visit to China, lecturing in Shanghai. He is a member of the Regional Furniture Society and a council member of The Furniture History Society, a group of scholars in Britain and elsewhere are members of the Society and many of them contribute to the Society's publications and become actively involved in its events. To view either society's web site or to inquire about membership, please visit http://www.furniturehistorysociety.org.
Christopher continues to lecture to students and focus groups on furniture of all periods including the
Antiques Roadshow Lecture & Conference Service
If you would like to download a full biography (PDF)
- (you will need Adobe Acrobat)
Publications (excluding articles).
Nineteenth Century European Furniture, Antique Collectors' Club, Woodbridge, Suffolk, 1981.
Animals in Bronze, Antique Collectors' Club, 1986.
Sotheby's Concise Encyclopaedia of Furniture, (General Editor & contributor), Conran Octopus, 1989.
Miller's Collecting Furniture, Reed International Publishing Ltd., London, 1995
François Linke 1855-1946 The Belle Epoque of French Furniture, Antique Collectors' Club, 2003.
Family History
Furniture appears to be in Christopher's blood, in 1901 his grandfather C. B. Payne opened an antique shop in the small market town of Melton Mowbray in the centre of the Leicestershire hunting country,  'CB's' own uncle having been furnishing the local hunting boxes of the wealthy since the 1880s. Christopher's father Tony Payne combined the two businesses supplying modern and antique furniture to the local area, eventually concentrating solely on antiques becoming a member of the British Antique Dealer's Association, the B.A.D.A., trading as 'Wylton Antiques'. In recent years, a lady went to a B.B.C. Antiques Roadshow being filmed in Leicester, hoping to meet Christopher to show him family photographs dating back to C.B. Payne's day. She still owns a an antique walnut bureau supplied by my grandfather. The client wanted a top made for books and so my grandfather had one made in his workshops in Melton Mowbray. Illustrated below with a card explaining that the best he could do was have the top made for £5 5/- (£5.25p), it is a charming mix of the original Queen Anne base and a 'modern' top made in 1913, a top that is stylistically out of period to our mode sophisticated 21st century eye!